Shopping Cart
Your Cart is Empty
There was an error with PayPal
Click here to try again
Thank you for your business!
You should be receiving an order confirmation from Paypal shortly.
Exit Shopping Cart
Books, Blogs, Poems, Programs & Podcasts
To enhance well-being by Krissy Regan
| | |
| --- | --- |
| Posted on December 22, 2021 at 1:10 AM | |
Peace, Love and Joy – three little words synonymous with Christmas. But what do they mean to you?
We talk about Peace in the context of war and world peace. True peace starts with peace from within. Peace to be your authentic self. Peace from the unhelpful thoughts and incessant monologue running through your head and the peace that comes with being in-tune with ourselves physically and spiritually. As I've cultivated peace within, my world is much more peaceful.
Love starts with loving ourselves first and then sharing that love with others. A mother's love is intense, overwhelming and anxiety inducing. As I've practised loving myself, I feel a greater love for the world around me. I love having this deeper connection to other living things. I recognise that I'm part of an interconnected universe that is built on a frequency of love. If we fail to practise and cultivate love to ourselves, then this state of connectedness is tenuous and we get trapped in a negative cycle of fear.
Joy is a word I had a little connection with until a few years ago. But now, it's all I hear. My appreciation of this word and my use of it has grown as I've practiced noticing, acknowledging and cultivating joy. When we seek joy, look for joy, notice joy, share joy, we create a ripple of joy that spreads to others. I think that joy shared is not joy halved. Joy shared multiples, and is contagious like a virus.
And what is the best part of these three little words? They are FREE!!!
The past two years have been so tough for people; physically, emotionally, financially, and mentally. If you didn't achieve success by flipping and pivoting or survive home-schooling and remote working, you are probably limping into Christmas thinking let's just get this over and done with… I get it!
So how can we go into the festive season with more peace, more love and more joy despite what kind of year you have had?
1. Understand that whatever happened you did your best? "When you know better, you do better."
2. Appreciate all your efforts this year. Stop what you are doing right now and say to yourself; "I am so grateful to myself for all that I have done for my family this year!"
3. Write down five things that bought you Joy this year. Then share them with your family.
4. For the next 30 days; sit in a quiet place, place your hands on your heart and say to yourself: "May I be Safe, May I be Loved, May I be Healthy, May I live with Ease."
5. When you notice an incessant dialogue running in your head say to yourself; "Is this helpful for me right now?" Then I invite you to find a piece of nature (tree, plant or animal) and appreciate it's beauty. Just stop, breathe and appreciate that piece of nature. You can do this as many times a day as you need, to free yourself from constant thinking. You will feel more connected to yourself and the world around you as you stop thinking, and start noticing.
These five little rituals have changed my life… I'm peaceful, I'm loved and I feel joyful every day, regardless of my commitments and challenges. You may relate to this poem I wrote called Peace.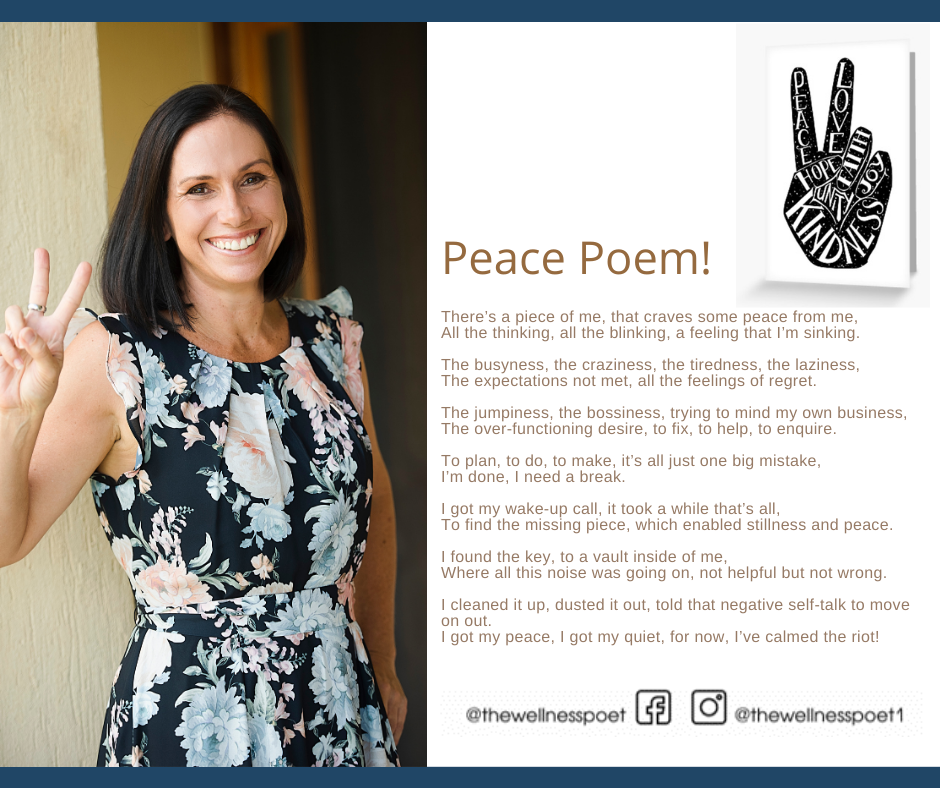 Writing poetry helps me make sense of my world. Since I wrote my first poem almost three years ago, I've written more than 50 poems focused on well-being. The first poem I wrote was called; What the Heck is Joy.
Curiosity has led me to ask the important questions through poetry. I have found the answers and insights I needed to overcome trauma, grief, poor health, low self-worth, over-thinking and feeling disconnected. You will find most of my poems on my website:
Take time this festive season to cultivate your own Peace, Love and Joy. Do not wait for it to be bestowed upon you. It's a free gift you can give to yourself over and over.
Thank you for reading my articles this year. It brings me immense joy to write them and I hope that in some way I've helped you this year.
Love and Health,
Krissy xx
Categories: None
/